On September 15th Microsoft has released Exchange Server 2013 CU10. Cumulative Update 10 contains the latest set of fixes and builds upon Exchange Server 2013 Cumulative Update 9. As a reminder CU releases are full Microsoft Exchange products allowing new installations.
Cumulative Update 10 is the minimum version of Exchange Server 2013 which will co-exist with Exchange Server 2016. Microsoft Exchange 2013 Cumulative Update can be downloaded directly from Microsoft. Please keep in mind this CU requires some Active Directory Schema changes hence proper permissions are required (check notes section).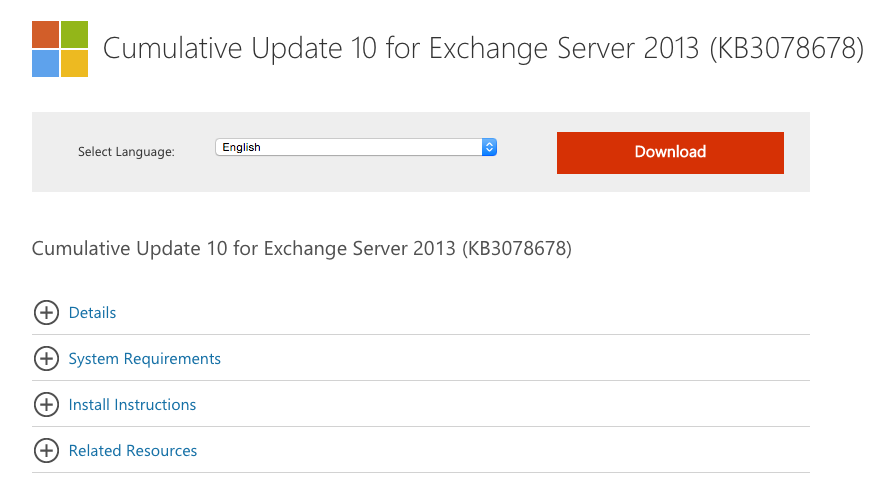 This update fixes the issues that are described in the following Microsoft Knowledge Base articles:
Full release notes can be found on TechNet – Release notes for Exchange 2013 CU10. As always it's highly advised to either wait a bit for reports about potential issues on new release deployment or do it in test environment first.
The Cumulative Update 10 package can be used to perform a new installation of Exchange Server 2013 or to upgrade an existing Exchange Server 2013 installation to Cumulative Update 10.
You don't have to install Cumulative Update 1 or a later cumulative update for Exchange Server 2013 when you install Cumulative Update 10.
Cumulative Update 10 does not include updates to Active Directory Schema, but does include additional RBAC definitions requiring PrepareAD to be executed prior to upgrading any servers to CU10. PrepareAD will run automatically during the first server upgrade if Setup detects this is required and the logged on user has sufficient permission.