This PowerShell Module allows you to create fairly complete documentation of Active Directory with export straight to  Microsoft Word (.docx), Microsoft Excel (.docx) or Microsoft SQL. It has also ability to prepare documentation for AWS (Amazon Web Services), and has starting data for Microsoft Exchange and  Office 365 services(Azure, Exchange Online).  Normally to prepare, create and deliver proper documentation you would need to spend hours, days preparing all the information and then there's the formatting part, making it pretty and suitable for management. This module takes it all away. It utilizes PSWriteWord and PSWriteExcel and is, to some degree a proof what you can do with PSWriteWord / PSWriteExcel. It's heavy work in progress so hopefully with time all 3 modules will grow to support full scope of Microsoft Office 365,  Microsoft Exchange, Hyper-V and allow you to prepare documentation for different processes across infrastructural projects.  
Configurable visual layout of Word Document, Excel Document and SQL data
Export limited data to Microsoft Word (only data that makes sense is exportable)
Export extended data to Microsoft Excel
Export extended data to Microsoft SQL
Works on Windows Severs (no requirement for Word/Excel/SQL)
No license needed. Free to use.
Issues should be reported on 
GitHub
Below you can find links to newest versions descriptions that add new features, explain usage and motives. It's required to read all those articles. If you skip it without reading, you will have lots of questions or trials and errors. When a new version is released most of the materials get updates to reflect new functionality and changes. So even if you've already read those and there's a new version out, you may want to take a look at all others to be on safe side.
New version (0.2.x)
, adds AWS, Exchange, Exchange Online, Azure AD and expands on Active Directory. Also adds export to SQL
New version (0.1)
, Be sure to read it! It's a game changer – you need to know how to run this module … :-)
As you can see below on the screenshots it just writes some basic texts, tables and few charts. And that's it… for the Microsoft Word part that is… Keep in mind that everything except the logo (which is built-in as a template – that you can easily remove – or use your own template) is made by PSWriteWord. There's no stuff that's being faked here.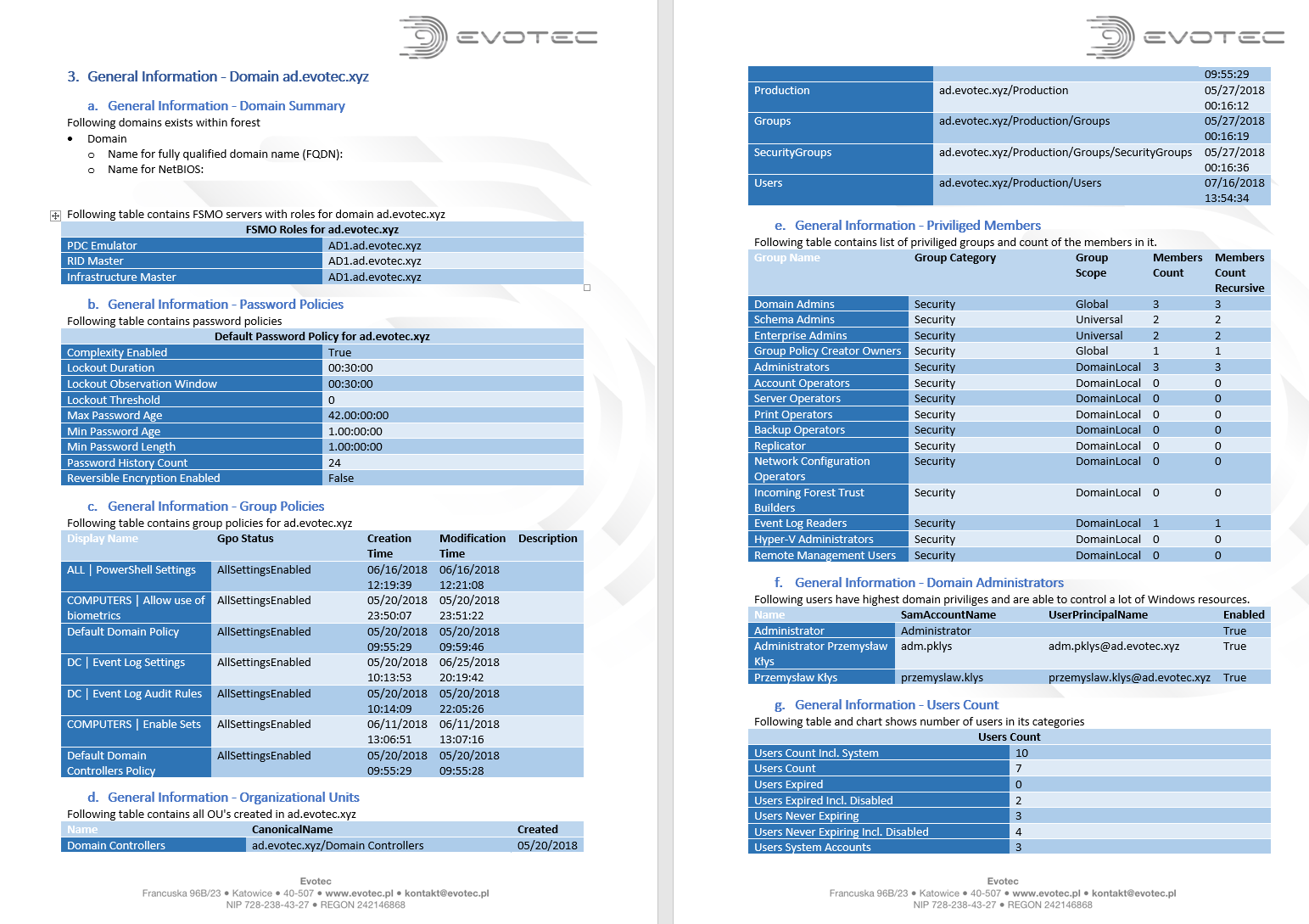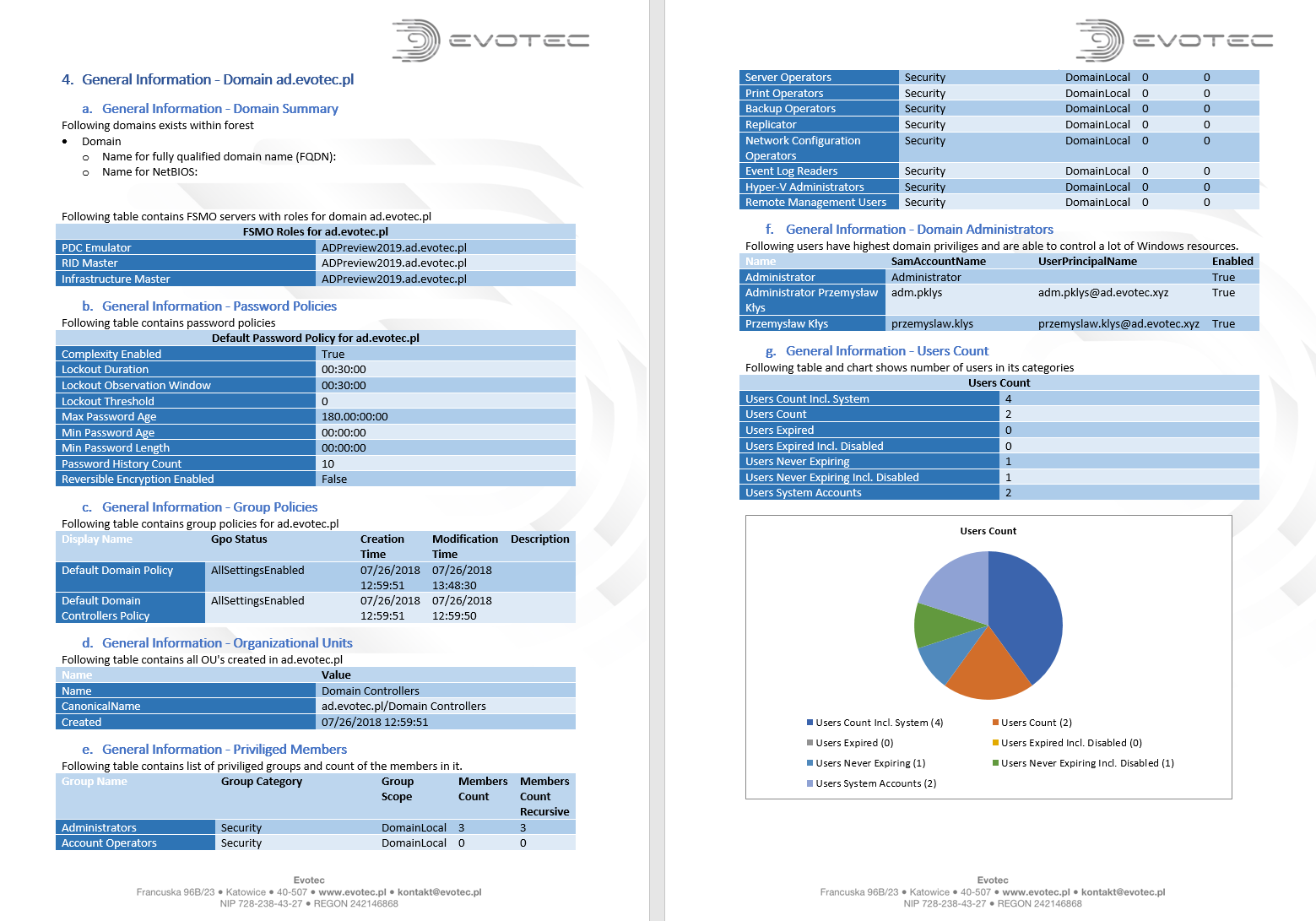 Keep in mind those are just example screenshots. There is more data….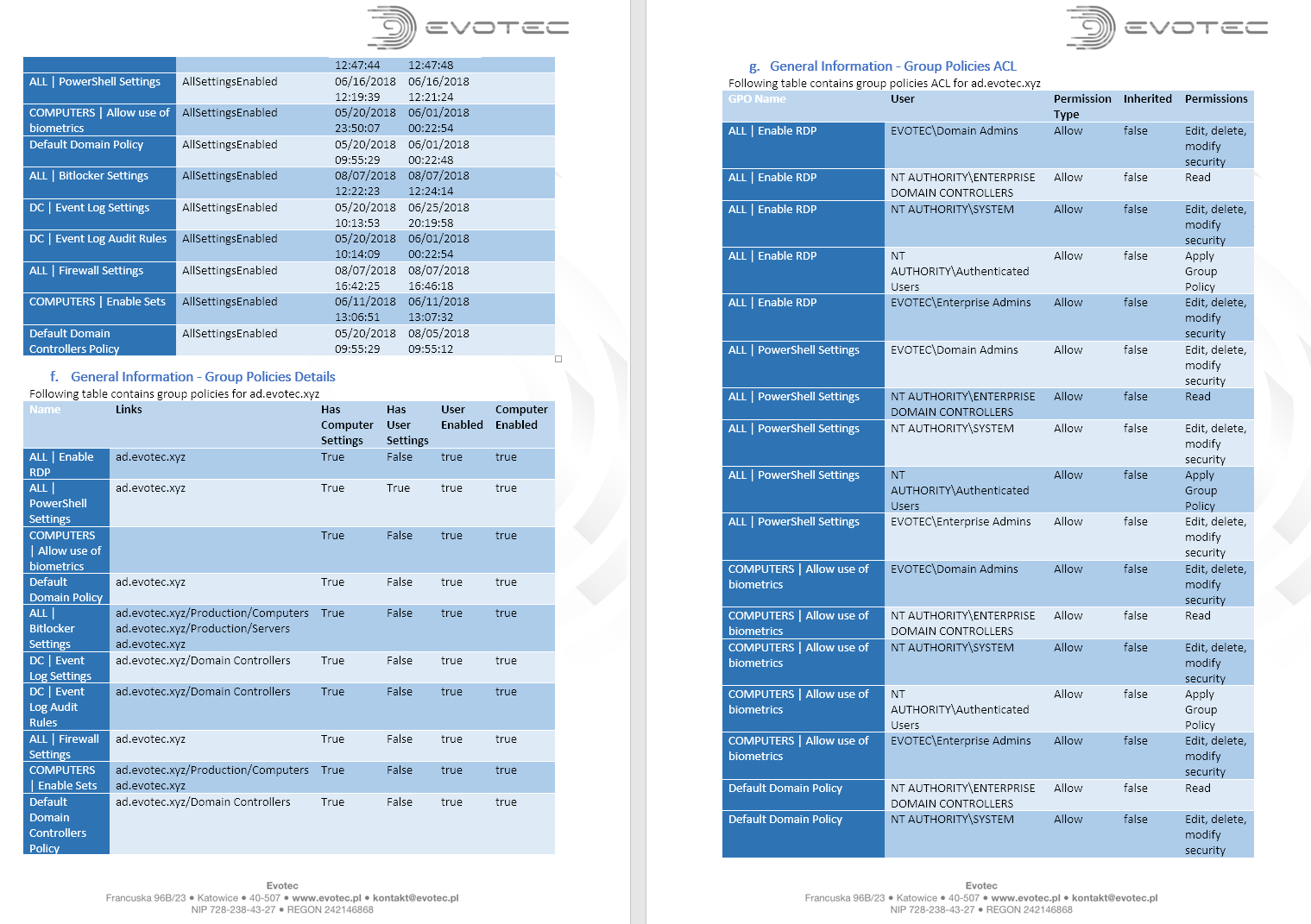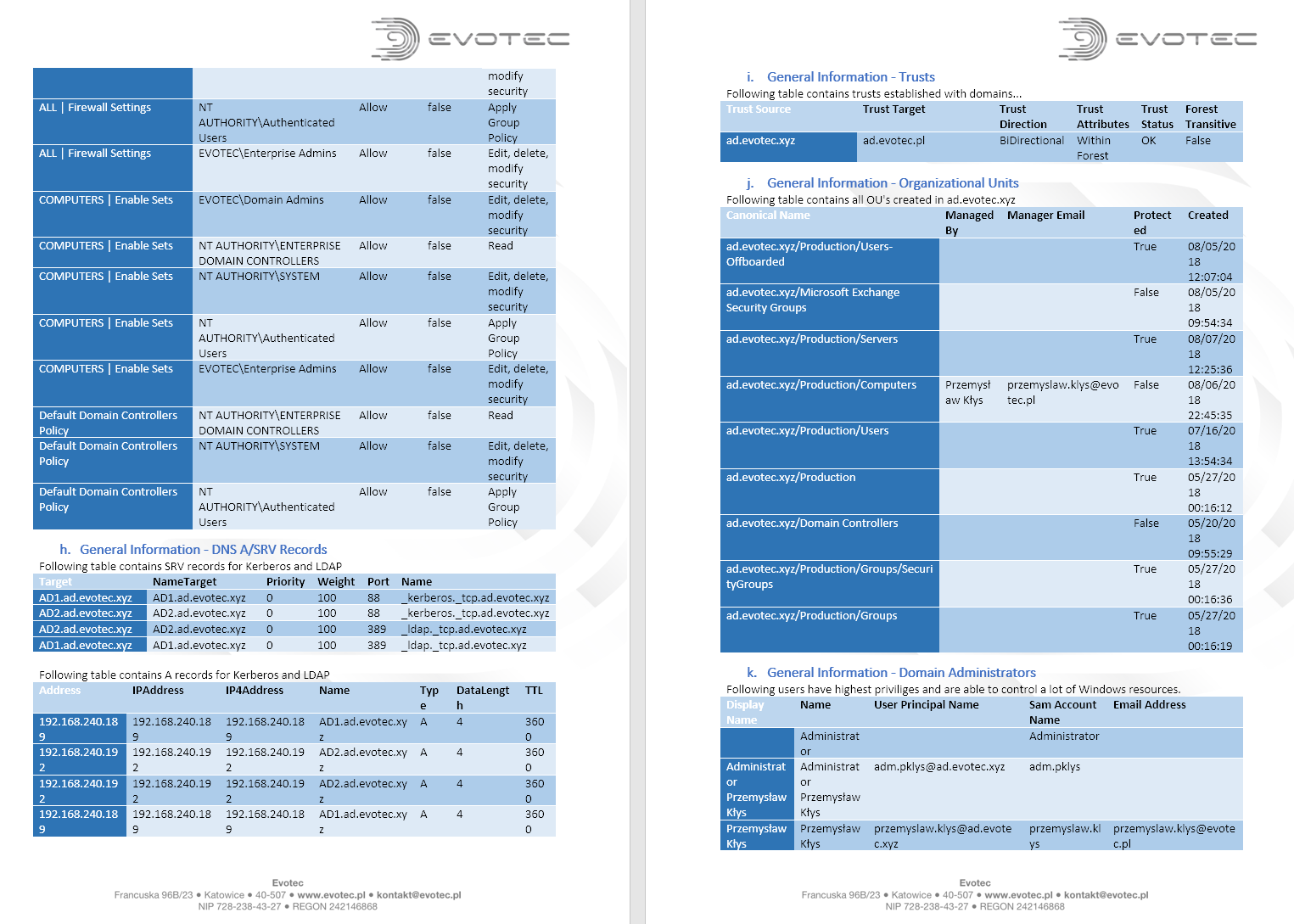 There is more… new version can also export all that data (and more) to Microsoft Excel.



Just run this code… and you're done! Essentially load 4 modules PSWinDocumentation (this module), PSWriteWord (module responsible for building word documents), PSWriteExcel (module responsible for building Excel files) and ActiveDirectory (you should know what it is if you're reading this).
Import-Module PSWInDocumentation
Import-Module PSWriteWord
Import-Module PSWriteExcel
Import-Module ActiveDirectory

$FilePath = "$Env:USERPROFILE\Desktop\PSWriteWord-Example-Report.docx"

# This is legacy command. Use the other one as it's more configurable. However this one still works - 1 command to AD report
Start-ActiveDirectoryDocumentation -CompanyName 'Evotec' -FilePath $FilePath -CleanDocument -OpenDocument
Commands above are kind of legacy now and you should refer linked articles above or GitHub Examples to find newest, most up to date configuration.
Before you are able to use this script you need to do few manual steps. Since this script is published as module… it's quite easy to set this up. Just execute command below (accept warnings) .. and start creating documentation for your own Active Directory Forest. Keep in mind that I release new versions once in a while but I also release bug fixes without much notification. So recheck every now and then and simply use Update-Module commands to bring it up to date.
Install-Module PSWriteWord
Install-Module PSWinDocumentation
Install-Module PSWriteExcel
Install-Module PSSharedGoods # Shared data between 3 modules above)
Install-Module dbaTools # if you're using export to sql
Install-Module AWSPowerShell # if you're working with AWS data

#Update-Module PSWriteWord
#Update-Module PSWinDocumentation
#Update-Module PSWriteExcel
#Update-Module DbaTools
#Update-module AWSPowerShell 
#Update-Module PSSharedGoods
You can of course install everything manually from GitHub (as everything is published there) but it will be far easier to just use Install-Module.